G'day Everyone,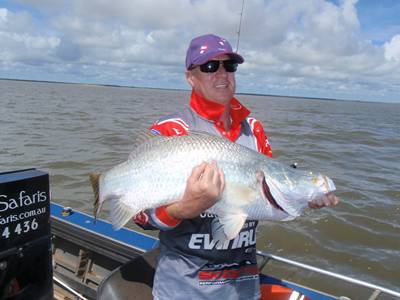 Long awaited election promise has finally been granted to our Interstate and local clients, Our Government announced closer of Chambers & Finke Bay for Commercial netting. This means there will be no commercial nets at our famous Marry River ( Shady Camp) for the upcoming Run-off Season 2013.
This is very exiting news for our annual Run-off clients, some of you have fished with me on one occasion and others have seen the explosive barra fishing in Darwin every year at my famous coastal creeks where Big Barramundi gather during run-off and have regularly caught and released 40 + pounders.
Upcoming Run-Off season is fast approaching and there are good tides still available to fish the iconic run-off with Darwin Barramundi fishing charters.
For more information on Barramundi Fishing Tours availability and options to fish Arnhem Land & Remote Moyle River Mother ship safaris.
I look forward to hearing from you and hoping to get back to you in the near future, regarding Million Dollar Fish event. G'day to everyone again.
"Let's go fishin"
Micky Qaiser