How to Fish and Catch Big Barramundi
Most of my clients ask me what is fishing like the moment I pick them up from the Hotel or Darwin Airport.  My answer is always the same, Fishing is great and every day is a new day and you are only as good as the day chasing big fish. During our drive to our destination my clients have a perfect opportunity to ask as many questions as they like, get an idea on what to expect and how to go about catching Big barramundi.
Fishing safaris preparations "Things to consider"
There are number of things to consider when planning a successful fishing trip. Apart from all the safety gear/food/water drinks etc, let me talk to you about barramundi tactics.
When chasing barramundi tide is the upmost important thing to consider. If you plan to fish the low tide get to your location at least an hour before the low tide, scan your fishing grounds look for tell tail signs of bait, drains, birds at the drains and color of water,
All these things must be considered to find fish and then match your lure with the bait that is around and you will have a successful day.
Same applies if you want to fish the high tide get to your location before the high tide most time barramundi will start feeding and come on the bite at high tide and the turn of high tide.
Fishing Shallow water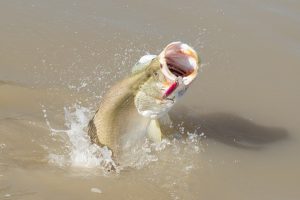 Let's talk about fishing shallow water at low tide.  This is the best time to target barramundi when you get to your preferred location always look for signs of bait prawns/mullet/scads/whitebait etc. Look for draining water from small drains from mangroves if you find bird activity and bait you are in business.  Next thing you need is a color change from the flowing current. Barramundi are lazy they will sit in slack water (eddies) and wait for the bait to come to them and ambush their quarry. Once you have found a likely looking spot
Select your lure and match the bait you see around you.  Do not make a lot of noise electric motors are the best option these days, you don't want to spook the fish. Be patient and work your lure slowly to the boat. Most time you will hear a barramundi Boof  (feed)
If you do then it's a sure thing that barramundi are there and are feeding and you are at the right place.
Fishing Deep Water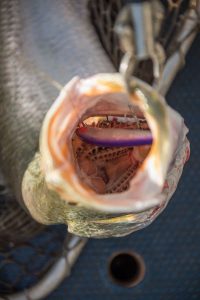 Let's talk about fishing deep water "Gutters" " Rockbars" A lot of my clients have great success catching big fish trolling deep water.  Similar tide timing is required to fish the gutters and rockbars.
Get to your location at least an hour before low tide use your sounder to locate fish and get the lure to the same depth you find fish. You will find it more successful if you troll with the current once you find your fish. Color change/ Slack water/ Bait/ depth, are all very important things to consider.
Whether it is trolling or casting lures, as most fishermen will know that we have neap tides and spring tides with different moon phases, therefore new moon and full moon coincides with spring tides casting lures at my hidden creeks for big Barras.
Fishing is one of those sports where nothing is for sure, it's the unknown factor and that is what excites us.
I always say to my clients nothing eats 24 hrs a day, people don't and fish certainly don't.  Timing a fish feeding bite is very crucial, also staying with the feeding school of fish as they move with the tide. I wish everyone great fishing and I hope this article helps you catch your personal best Barramundi.
Cheers Micky